Northwoods Starfest
Michael Cain
The warm nights of summer make a great environment for star parties and the opportunity to share the heavens with others. I have enjoyed many star parties over the years. With gas prices being so high this year it is natural to take advantage of the great star parties in the Midwest. The Northwoods Starfest will be celebrating the 20th anniversary of the star party on August 1st - 3rd at Hobbs Observatory in the Beaver Creak Reserve near Fall Creek, WI. The Chippewa Valley Astronomical Society (CVAS) sponsors the annual event and has a lot in store for those who plan to attend. The facilities are not only close by but are simply great to enjoy the experience that only a star party can provide.
CVAS has reserved a Youth Camp for the event. The camp has five cabins and includes the Cedar Lodge. Plenty of tenting and camper spaces are also available. Attendees can enjoy nature in the Wise Nature Center which includes plenty of hiking and biking trails.
Hobbs Observatory features two domes, one with a 24-inch f/5 reflector and the other with a 14-inch Schmidt-Cassegrain telescope. A dish for radio astronomy adds to the ability to learn about the heavens. In addition to the observatory instruments you will also be able to see and look through telescopes and share experiences with the many other attendees. Over 100 amateur astronomers are expected to attend the Northwoods Starfest this year. This is an ideal event to meet and see what other amateur astronomers are doing first hand!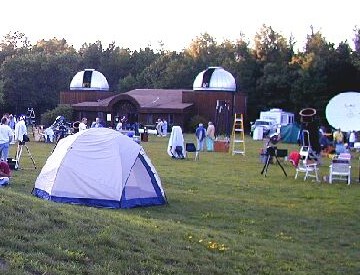 The observatory building includes a large meeting area where you will be able to attend the featured talks and presentations on Astronomy. There is also a large auditorium located at the Nature Center. The fee is $60 which includes registration, meals, and lodging or camping fees. For more information on the schedule and activities of the Northwoods Starfest check out the web site: http://www.cvastro.org/sf2008.html.
I am greatly looking forward to the 20th annual Northwoods Starfest and hope to see you there.
Published in the August 2008 issue of the NightTimes