The Perfect Telescope
Roberta Garza
There isn't "SUCH A THING" the experts can tell you, and I tend to agree. I've seen many kinds of scopes in the star parties I've visited over the years, from the top of the line Ritchey-Chretien, to the Maktsutov, and Schmitt-Cassegrain, and finally to the raggedy waste-wood home made ones. Every telescope concept is made for a particular task. For example: The Cassegrain systems are better suited for astrophotography, although you can image with just about any telescope. The refractors are best for planetary observing due to the detail they can resolve, but they may suffer from a narrow field that can frustrate your efforts to see deep. Then you have the reflectors; which can give a wide aperture, perfect for deep sky observing and fair resolution.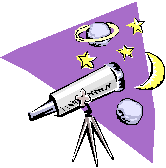 I've noticed that many people new to the hobby are skeptical about home made telescopes. They probably think that the factory made ones are the best because they are made "by experts". Nothing can be further from the truth!
Unless you pay top dollar for a premier telescope, you're going to have some trouble with the production versions. There always seems to be some problem with these, which will require your expertise, or some research to get it fixed.
In one of my trips to ASTROFEST, I saw a 6" Newtonian with a tube made out of reeds, and a 10" refractor with a pier like base made of 4x4's which looked liked they were picked from the dump after being there for weeks (you have to wonder how much effort it would take to carry it!). Another scope was made as a tripod with the primary at the bottom of one of the legs and the secondary on top. This concept is called a Yolo . And then there are the trischiefspeiglers made out of 3 mirrors. There was a 12" one at ASTROFEST 8 years ago. The owner told me it took him 5 years to build it. He even ground the mirrors himself!
THE OPTICS - In my book IT DOESN'T MATTER how a telescope looks, what matters is... THE OPTICS! And here is where the home made ones excel. There are so many mirror grinders out there who make exquisite mirrors that no factory can match. No matter what kind of system you choose, you will get MORE for your money acquiring a Newtonian or better yet, a Dobsonian. I have made everything in my Dobsonian telescopes. In the past few years I have leaned over to buy factory made primary and secondary mirror holders. The same goes for focusers. One of my sources is University Optics (www.universityoptics.com ). Unless you are a machinist you cannot make these parts as accurately as the factory ones.
BUILD IT YOURSELF - Now, if you decide to build your own Dobsonian, you can save some money and better yet, make it to your own specs. The best thermal materials are wood and cardboard (Sonotube for scopes under 10"). For anything over 10", it is best to make it with trusses. You'll have to start with the primary mirror, and then build everything else around it.
There used to be a monthly magazine years ago (The Starry Messenger) where you could find all kinds of used mirrors, but nowadays it seems that you can only buy used items at star parties. Newport Glass (www.Newportglass.com ) offers fairly good mirrors for a good price. You can get the prime ones like Pegasus, Nova, Galaxy and Zambuto's as advertised in Astronomy and Sky & Telescope magazines.
Materials to build your scope are available in just about every hardware store. Should you have a table saw or a router, Menards in Mundelein has got 1/2" and 3/4" thick white pine wood 4'x8' panels with one smooth side. Ace Hardware has aluminum pipes you could build trusses with. There are plenty of sliders everywhere and all kinds of Formica material, but I can assure you NOTHING beats the pads made of virgin Teflon sliding on Ebony Star Formica. Piper Plastics (Rt.45 with Peterson Rd. Mundelein) makes all kinds of plastics and Teflon. Home Depot sells pieces of Ebony Star Formica measuring 90"x30" (you'll have to buy the whole sheet!).
Don't have fancy tools? You can get Baltic Birch, Cherry wood and other exotic woods at Owl Harwood Lumber Co. They can cut any piece for a small cost accurate to 1/32nd of an inch.
I prefer screws over nails to fasten the wood on my telescopes. The same goes for my preference for using a varnish spray, but you can use any other kind of paint (although I'd advise you to use the spray kind: it's faster and smoother!).
RESOURCES - To build anything under 10" you can find a guide on Richard Berry's "How to Build a Telescope" book. Anything from 12.5" to 30" you can build it with the guidance of David Kriege's "The Dobsonian Telescope" book
In the end, if you want to avoid all this trouble, you can even get a telescope kit from www.Astrosystems.biz, where at least you could have the fun of assembling it yourself.
HAVE FUN! - Making mistakes is all part of building a scope. Once you have one built, try it in the field. You'll be surprised on how many issues you can detect and then get them fixed or transformed.
I say: If I can do it, anyone else can too! To make it all work may require a lot of patience and frustration. If you're armed with the first, you will prevail.
Published in the January 2007 issue of the NightTimes